Tell Your Friends… it has Rewards!
We all know exercising with friends and family has its rewards. However, here at YMCA there could be an additional benefit to our members who make use of our Refer a Friend scheme.
Nominate a friend or family member to try us for FREE with a complimentary one-day membership voucher – and you could get your hands on £25 Love2Shop vouchers! Simply complete the form with their details and if your friend or family member joins the YMCA on an adult annual premium membership then you will be rewarded with £25 Love2Shop vouchers.
So, arrange a date with your friend to come along and make full use of our facilities….Show your friend what we have to offer, whether it be accompanying them to their first Spin class or showing them the ropes in the gym….because if there's one thing YMCA members are great at and that's inspiring others!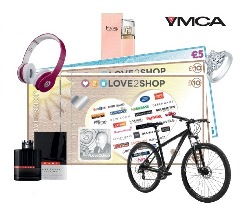 Our members happily share their personal journeys and stories which really do help other local people make lifestyle changes for good.
Read our Real Life Member Stories.